Commonwealth Scholarship Test (HEC HAT) Preparation
After knowing the eligibility criteria and understanding the application procedure and test pattern, you have to plan for HEC HAT test preparation. It is important to note that mare passing this test with 50 marks does not mean success. In other words, there is no as such passing or failing criteria in commonwealth scholarship test. As the competition is very high, so you need to get more than 85 marks out of 100. Many preparation books that are available in the market are outdated or out of scope. These books only help in getting approximately 40-50 marks. To help you in achieving the required score, I have made an updated online course and 5 practice tests at very economical fee. These 5 practice tests include question bank from past papers of commonwealth scholarship tests. Additionally, we have recently published The Best Book for GAT (General) – by Earnest Prep. You can place online order for this book with FREE home delivery charges, but money order charges will apply. In order to place online order, click on Order GAT Book.
Important Note: HEC Apptitude Test (HAT) is similar to the GAT General. So, you just need to prepare for GAT General to confidently appear in HAT test.
You may also like to see our Top scorer student of commonwealth scholarship test previously.
How to start HEC HAT Test Preparation?
At the bottom of this page, you will see three different colored study plans. The access to first level study plan is for free. This beginners study plan includes basic concepts that are essential to know before joining the online preparation course. This will help you ready to start HAT Test Preparation comfortably. Also you will understand how you will prepare throughout this online forum. After you feel comfortable, you can buy the next two study plans namely: Preparation plan and Practice session as mentioned at bottom of this page. During preparation, if you buy Gold membership then you can ask question through WhatsApp (03214711387). I will explain the solution in audio until you understand the concept clearly.
This course is designed to improve not only your understanding concepts but also improve your thinking and reasoning skill. Therefore, I will not explain and tell exact answer steps, but will help you to reach the final answer by your own ability. Because that will give you confidence and hence success in test day.
You may also like to read Commonwealth Scholarship Test Tips.
What's inside this course?
Firstly, many people confuse whether Commonwealth Scholarship test is like GRE? The answer is "NO". It is actually like GAT General. So this course is basically GAT preparation. But the course is designed by keeping the timing and pattern of Commonwealth Scholarship test in view. That is the target score is to get more than 80 rather than mare passing this test. Recently, we have published a comprehensive GAT book, that is the best book for Commonwealth Scholarship test preparation as well. Those who want to prepare from The Best Book for HAT Test Preparation, click on the below book image: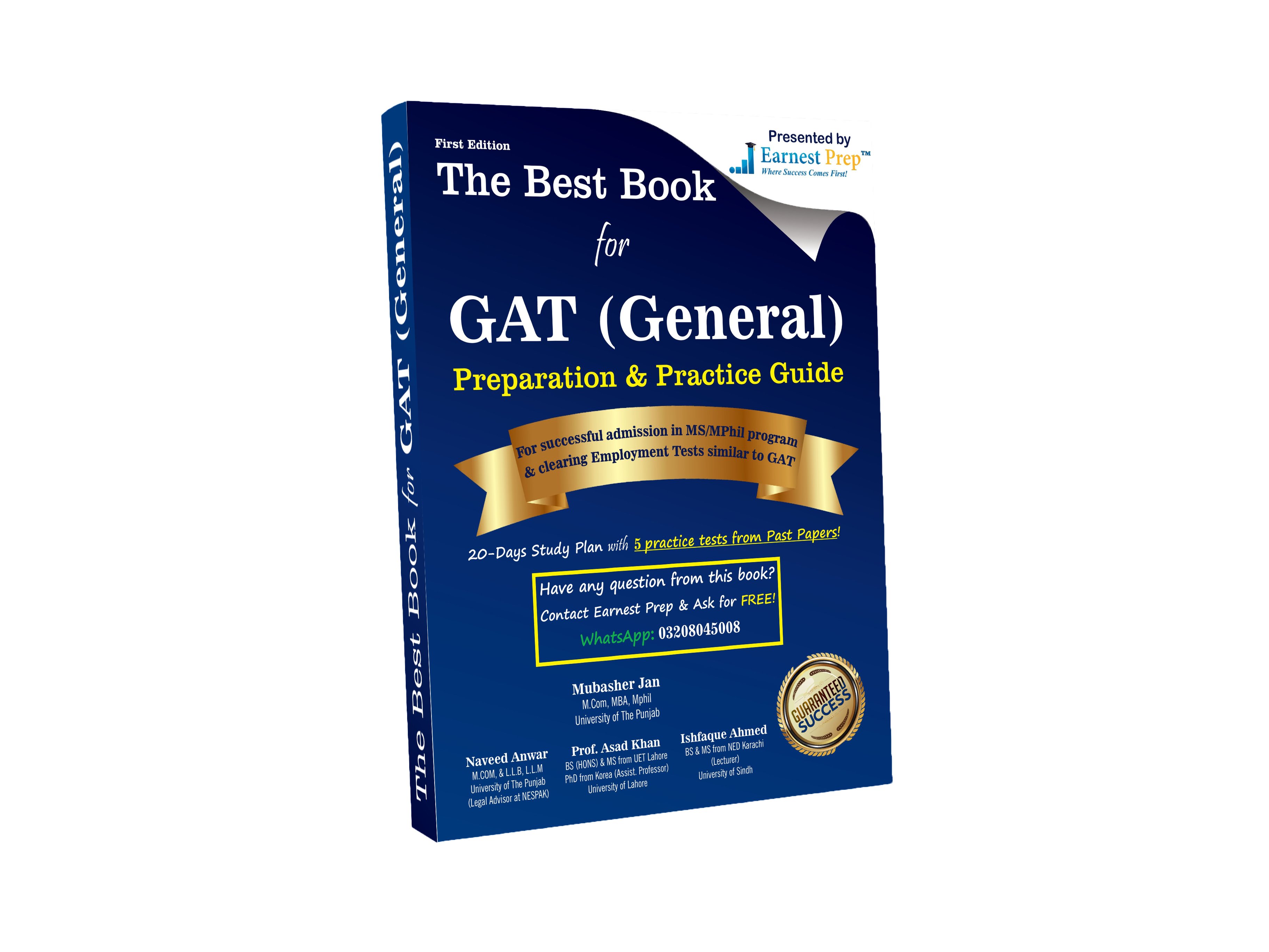 Secondly, the course includes lessons (which includes lectures containing concepts) and topic wise practice exercises For instance, quantitative starts with word problem topic and sub-topic distance and speed problems. And after completion of this lesson, you will have to attempt couple of questions from this topic at end of this lesson. This will make your grip in this topic. Similarly, in verbal and analytical, you will get similar things. And in same way you will able to cover complete topics and get full grip on each.
Lastly, after completion of preparation plan, you must be ready for practice session. This practice session includes 5 practice tests, that have questions from past papers of commonwealth scholarship tests and GAT tests. After these practice tests, you would further have hard difficulty level question bank of analytical reasoning section. Because this section is not only the most difficult section but also has highest number of questions (i.e 40). Therefore, you might need lot more practice of these questions to get full grip and maximum pace. Remember that commonwealth scholarship test play with timing so you must be quick enough. So good lessons with concepts and very good practice generate pace that is the key to success in this test.
Commonwealth Scholarship Test Preparation Fee:
Last date to apply for Commonwealth Scholarship is 1st November, 2021, but the test date is not yet announced. And you need to dedicate more than 3 hours daily in order to complete this online course or the HAT book. Before this date, you must have ample time to prepare very well and get excellent score. Thus, following table will show the fee structure of commonwealth scholarship test preparation:
| Membership | Features | Fee in PKR |
| --- | --- | --- |
| Silver Membership | 30 days access without instructor help | 500 |
| Gold Membership | 60 days access with instructor help | 2500 |
For further details about payment methods, click on Payment Methods.
Commonwealth Scholarship Test Preparation Course:
Click on the three of the stages below to start commonwealth scholarship test preparation:
1. Beginners refresher – (3 Days) FREE
2. Preparation Plan – (12 Days)
3. Practice Session – (5 Days)
Important Note: The access to first day, of the 20-days study plan, is for FREE. However, the access to other 19 days require some fee as stated above. For further information, you may contact me on email (info@earnestprep.com) or you may ask related query on Whatsapp (+923208045008).
---